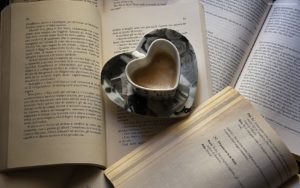 The man who does not read good books has no advantage over the man who can't read them.—Mark Twain
In my first year of recovery I read 22 books. The list of books was given to a new comer in hopes of offering to him, what was so freely given to me. Today, I almost wish I still had that list, but many of those books are listed here, along with some of my thoughts. The ODAAT Chat Podcast will be covering all these books and adding many as we go along.
To this day, 22 years later, I always have a stack of books by my bedside along with a journal, a pen and a pair of glasses. 😉 As we fill our minds and inspire our hearts with the wisdom of those who come before us, we give ourselves a fighting chance to overcome addiction by healing the unseen wounds.
I hope this these books bring you as much healing and happiness that they have brought me.
Peace & Love,
Arlina
For full disclosure, the links are affiliate links. Proceeds go toward supporting the podcast production costs and to local foster children programs.
(In no particular order)
Alcoholics Anonymous 4th Edition http://amzn.to/2jxQ6oR
Twelve Steps and Twelve Traditions http://amzn.to/2k9kpRG
The Four Agreements, Don Miguel Ruiz http://amzn.to/2j2SqFP
Daily Reflections http://amzn.to/2iTBQ7T
24 Hours Daily Meditations http://amzn.to/2iTBY7n
Daring Greatly – Brene Brown http://amzn.to/2iUe4sm
Gifts of Imperfection – Brene Brown http://amzn.to/2jyo6Bh
@BreneBrown
Drop the Rock, Bill P. http://amzn.to/2iUla05
The Seven Spiritual Laws of Success, Deepak Chopra http://amzn.to/2jIg5MQ
The Untethered Soul, Michael A. Singer http://amzn.to/2iKlROj
Seat of the Soul, 25th Anniversary addition with workbook, Gary Zukav http://amzn.to/2kb3KkD
A Return to Love by Marianne Williamson http://amzn.to/2k8znHE
The Road Less Traveled, M. Scott Peck http://amzn.to/2kb6YVv
The Happiness Advantage, Shawn Achor http://amzn.to/2iKdT7R
A Woman's Worth by Marianne Williamson http://amzn.to/2iT16Lr
A Course In Miracles http://amzn.to/2k8O39J
Unleash The Power Within; Personal Coaching and Life Transformation by Tony Robbins http://amzn.to/2iT0a9K
The Secret by Rhonda Byrne http://amzn.to/2iSYtJC
The Language of Letting Go; Daily Meditations by Melody Beattie http://amzn.to/2iKjdrV
The Language of Letting Go by Melody Beattie http://amzn.to/2jHrvA3
A New Earth, Eckhart Tolle http://amzn.to/2iToUif
Power of Now, Eckhart Tolle http://amzn.to/2iTp6ht
The Knight in Rusty Armor http://amzn.to/2jHMvXg
Simple Abundance: A Daybook of Comfort and Joy by Sarah Ban Breathnach http://amzn.to/2jIiebp
Simple Abundance: Gratitude Journal by Sarah Ban Breathnach http://amzn.to/2iTL3x4