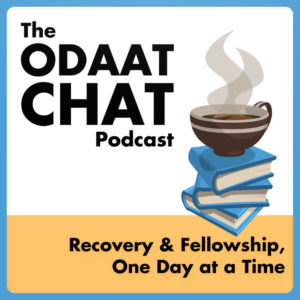 There are times you just can't get to a meeting or you just want to edge out the negative old tapes playing in your mind.
The purpose of ODAAT Chat is to bridge the gap and provide solution oriented information. This is NOT intended to replace your regular 12 step program, but an enhancement. By talking about recovery in an open honest way, we hope to eradicate the stigma of addiction. Everyone is struggling with something. There is no need to feel shame about it. We don't shoot our wounded. We stand up for each other and lift eachother up. If you have ever felt isolated, misunderstood, outcast or lonely, fear not for you are welcome here. Patience love and tolerance is our code. We get through our struggles by sharing the secret, One Day At A Time.
Please feel free to comment and offer suggestions, but yes, there are rules…
Comment Rules: We welcome, and need your feedback! But please play nice. Critical is fine, but if you're rude, we'll delete your stuff. Please do not put your URL in the comment text and please use your PERSONAL first name or initials and not your business name, as the latter comes off like spam. Have fun and thanks for adding to the conversation! (Thanks to Tim Ferris for the inspiration)
We're new and still trying to figure out how to best serve this community. Let us know what you'd like to see & hear in the comments.
Happy Trails